The Ultimate Rare Holiday Gift Guide for Yogis
Hello, hello and happy holidays!
Ok—to be honest—I've always found holiday gift guides to be just a bit cheesy, but this little non-vegan yogini LOVES CHEESE.
So, here I am layering it on thick with our very own rendition of your TOP 7 Holiday Gift Guide For Yogis.
Originally, I was inspired to create this guide because every year I see my big hearted and super generous husband struggling to figure out what the heck to give me for birthdays, anniversaries, and of course, the holidays.
I can see him in my mind's eye feeling overwhelmed the moment he walks into a store, and picture him encountering very well-meaning sales clerks who try their best to help him figure out what to wrap up and bring home.
Yogis are a difficult crew to find gifts for.

Your yogi friend, or loved one, is most likely a mindful consumer (read, they like to know where their products are made and how they're produced), and they may be less attached to owning material items. Your yogi is also probably pretty interested in companies who support sustainable practices and do their research on those practices and their products.
With that being said, it's the thought that truly counts. So, to help you narrow down and clarify that special present for your yoga aficionado, check out our unique holiday gift guide below.
"Hey, Charina. What is Mysore yoga? And will I be SORE after practicing this style?"
This has got to be one of the number one questions I get when I tell people about Mysore Ashtanga Yoga.
Whether or not you or your yoga loving friends practice Mysore Yoga, you may notice some soreness after practice. Daily Ritual's bath soak is the perfect antidote to soothe your achy muscles and melt away tension. If the yogi in your life has a daily asana practice, her or he will for sure love this self care treat.
What's also cool is Daily Ritual was founded by Los Angeles-based twins Jolisa and Jazzy. I met Jolisa years ago at a yoga class and she is just one of the most radiant and kindest souls you'll ever meet. If you're in the greater LA area, here's a way to support a local business!
Check out Daily Ritual for more products.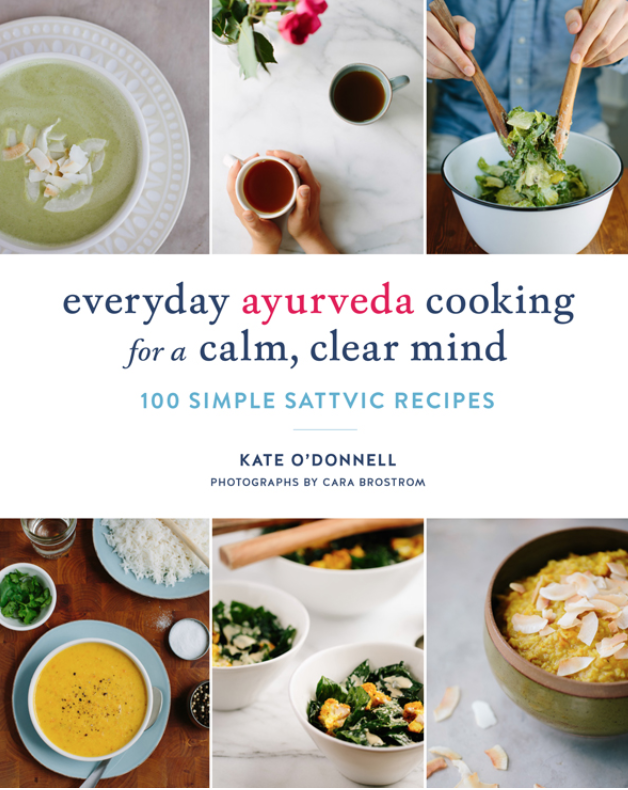 Ayurveda—also known as yoga's sister science—is a natural complimentary practice to yoga.
Your yogi sweetie may already have started to incorporate some ayurvedic practices and cooking into their life. Help them achieve their optimal health with this super informative recipe book by Kate O'Donnell. You'll find a variety of easy, well-balanced AND delicious meals that include Aryuvedic principles, ingredients, and techniques that are easily accessible for the western practitioner.
Speaking of ayurveda, does your yogi honey love talking about their abhyanga (self-massage) practice? Abhyanga is a self-care practice that provides many benefits including easing soreness, decreasing inflammation, and improving skin tone.
Dhanwantaram Tailam (oil pictured here), is most commonly used for self-care massage by mothers postpartum. So if your yogi loved one has recently become a mama, giving them a bottle of this is like gifting them 10 minutes of pure peace.
I picked up a few bottles of Dhanwantaram Tailam on my last trip to India, and since then, Kottakal has been the closest in quality to those I've brought home. This is mainly because Kottakal products are produced by Arya Vaida Sala (AVS) in Kerala, India.
Kottakal oils are excellent quality. They are developed and produced in two modern manufacturing facilities fully equipped with quality control labs. Kottakal is a charitable institution dedicated to the propagation of authentic Aryuveda. They also grow and cultivate Aryuvedic medicinal plants, especially those that are threatened in the wild.
This is hands down one of my most favorite books on yoga. For one, it's well written, super clear, and uses modern language to communicate complex ancient yogic principles.
It's a great resource for those interested in yoga philosophy, ethics, and the sacred traditions of the practice.
Your yogi or yogini will LOVE how detailed this book is in elucidating the 10 Yamas and Niyamas—a section of the book that's very dense, but incredibly informative.
This book is a resource that I revisit time and time again. There's so much yoga wisdom in these pages, it will for sure become an EPIC CLASSIC in your yogi's library.
Do you have a budding yogi in your life who:
- is so fr*%kin' busy they can't make it to a studio class?
- lives in a place where yoga studios aren't a dime a dozen?
- is in a season in their life where a home practice is what they can afford (time and money)?
Ompractice may be the best solution for this yogi.
Ompractice is not a pre-recorded yoga class. It's a two-way live INTERACTIVE yoga where your instructor can give real time feedback and guidance as you move through your practice.
It's affordable and easily accessible—two main tenets of Ompractice's philosophy.
All your yogi needs is a device with a camera, reliable internet connection, and some space to set out their mat.
With over 60+ classes, Ompractice offers a wide variety to choose from: Guided Meditation, Yin Yoga, Vinyasa Flow, and Yoga for Office Workers. Your budding yogi will find something to suit their needs.
Not only that, Ompractice is kid and pet friendly too. I've recently joined the Ompractice teaching team and I love seeing parents practice alongside their children, as well as the occasional kitty or doggy coming up to the camera to say hello.
Sign up and get $10 off your first month subscription with CODE: CHARINA18JOY at checkout.
Now, if you're more of a shop in store rather than buy online kind of giver, and you live or happen to be visiting the SF Bay Area, East West Bookstore is the place to be to find that truly unique gift for your special yogi friend.
From crystals to oracle cards; malas and singing bowls; a wide variety of books on all things yoga and metaphysical; plus the most super kind, knowledgeable and helpful staff— you'll no longer feel so confused about what to pick up for your favorite yogi.
On your visit, stop by the sweet spot by the fountain to meditate, read, or take a zen break from holiday shopping madness.
Last holiday season, in lieu of giving material items for presents, my family and I decided to do something different. We gave each other experience-based gifts instead.
It was an interesting experiment and we learned quite a bit (including an eye-opening reflection on the relationship between presents and presence).
In fact, this year—though my husband and I plan to give material gifts to our teens—we've decided to continue the tradition of giving each other experience-based presents again.
Shared experiences like retreats are gifts that keep on giving. It's like a special treat to look forward to later in the year when the holidays are well behind us. Gifting a retreat is like saying, "Honey, I see how much time away from the daily grind replenishes your soul. Here, go take some time for yourself."
Now, if you plan on gifting a retreat to go on together, it's likes saying, "Cheers to you and me, love. Let's open our eyes and hearts to new landscapes and make some Om-mazing new memories in the new year."
Going on a yoga retreat is a unique way to intentionally block off time for some restoration, relaxation, and rejuvenation.
Love Yoga Light, a coalition of San Francisco Bay Area female leaders dedicated to serving their communities, will be offering a diverse collection of retreats to choose from in 2019.
From a day-long partner's retreat in March, to a very special bucket list international destination (Morocco in September), you'll surely find a balance between zen and adventure for your sweetie.
Visit Love Yoga Light Retreats for offerings.
Purchase Spring Equinox: Circle of Creation Daylong Yoga Retreat at Portola Vineyards.